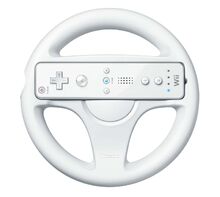 Wii Wheel (known as Wii Handle in Japan) is a racing wheel controller used on racing activities.The wheel is simply A hard shell with a slot to insert a Wii remote in. Originally intended for Mario Kart Wii, the Wheel can be used for the various motor sports found in go vacation such as motocross and car races.
Ad blocker interference detected!
Wikia is a free-to-use site that makes money from advertising. We have a modified experience for viewers using ad blockers

Wikia is not accessible if you've made further modifications. Remove the custom ad blocker rule(s) and the page will load as expected.