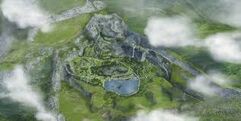 The Mountain Resort is the 4th unlockable resort. It is based around Mt. Shanghar. The area has a country theme to it, with horseback riding, train stations,ranches, and shooting ranges.
"[Player Name], welcome to Mountain Resort! Surrounded by majestic ranges and peaceful rolling hills, the Mountain Resort is outdoor paradise. You can get around by horseback, off-road car, and kayak! A sightseeing boat and train are also available! Be sure to give them a try!" - Lily, when you enter Mountain Resort for the first time.
Mountain Resort

Unlocked:
12 Stamps
Sign:
Mountain
Radio:
Yes
Bungee Jumping:
3
Information Centre:
Lake Trumelia
Notable Places
Lake Trumelia
Shanghar Castle
Otti McCrae Falls
Shangar Peak
Shanghar Ridge
Schuber McRae River
Sleipnir Stables
Off-Road Car
Kayak
Walking
Swimming
Horseback
Boarding Platforms
Edit
Lake Trumelia
Edit
When Mt. Shanghar erupted some long time ago, Lake Trumelia was formed, along with it's natural rock formations. Many animals now call the lake their home, including beavers, ducks and the lake monster.
This resort's Pacman shape is a natural rock formation in Lake Trumelia. It has yellow flowers growing on it, adding to the Pacman look.
Duckling (in groups around the edge of the lake)
Beaver (in and around the lake, riverbanks and Shanghar Peak)
Cow (near train stations up the mountain)
Sheep (near train stations up the mountain)
Bighorn (locations at the top of the mountain)
Dove (circling the lake and train stations)
Raccoon (by the lake and near rivers)
Condor (on top of the rocks near bighorn ranch)
Lake monster (in the lake, comes out in the evening)
Chicken (on certain farms)
Peafowl (at the base of Otti McRae falls and other places near rivers)
Woodpecker (on trees and wooden poles)
European rabbit (in quiet meadows in the evening)
Blue jay (on handrails next to Lake Trumelia)