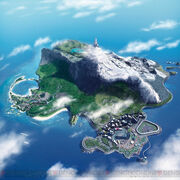 There are five locations in this game that you can explore in Kawawii Island. Throughout the game these locations are referred to as resorts. In each resort there are multiple minigames in which you earn stamps and keys. There are multiple locations to explore. There is a help desk where you can attend School, customize your outfit and vehicles, view your progress, and change resorts. There are seven "treasure chests" and "photo spots" in each resort. You can visit each resort at two different times. The options vary from resort to resort, but are always from this list:
Marine Resort is an area full of paradise, sand, and sea. Players can ride ATVs, marine bikes, go diving, play beach volleyball, surfing, and more.
City Resort is an area with hotels, skate rails, half-pipes, and buildings. Players can go racing, skateboarding, skate, and more.
The Snow Resort is a resort with a lot of snow. This resort is the biggest in the island. There are snowbards, snowmoblies, and skis to ride down the mountain. The activities here are snowball fighting, dog sleding, ski jumping, and snow tubing.
A resort of 'Enjoying the Outdoors'. Outdoor activities are played here.
The reward for completing all fifty stamps the game has
as to offer.
Ad blocker interference detected!
Wikia is a free-to-use site that makes money from advertising. We have a modified experience for viewers using ad blockers

Wikia is not accessible if you've made further modifications. Remove the custom ad blocker rule(s) and the page will load as expected.