These are a list of activities offered at the City Resort.
The first recommended activity by Lily, the player races to the finish line in race car, motorbike or circuit car.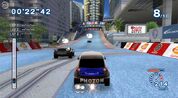 The second recommended activity by Lily, the activity involves moving the Wii remote in line with that of the moves displayed on the T.V
Dodge pies or throw pies at your opponent. According to the City Resort Radio, this discipline dates back to an ancient practise on Kawawii Island.
Sour through the skies on hang glider.
Slide through a fun filled tube of excitement! 
Hit a floating puck in the opponents goal.
Rub your fingers against glasses to create beautiful notes.
Pull of awesome tricks on skates or skateboard.
Keep grinding on the rails without falling.
Whack the moles with your mallet as they pop out of the board.
Whack the ball and hit as many panels as you can.
Throw balls into the bucket.
Punch the target with your hardest punch.
Putt the ball into the hole.
Jump of the sides of the halfpipe and perform tricks.
Whack your opponent with your sword. (Requires wii motion plus to play)
Throw a ball and knock down the panels. (Requires wii motion plus to play)
Ad blocker interference detected!
Wikia is a free-to-use site that makes money from advertising. We have a modified experience for viewers using ad blockers

Wikia is not accessible if you've made further modifications. Remove the custom ad blocker rule(s) and the page will load as expected.